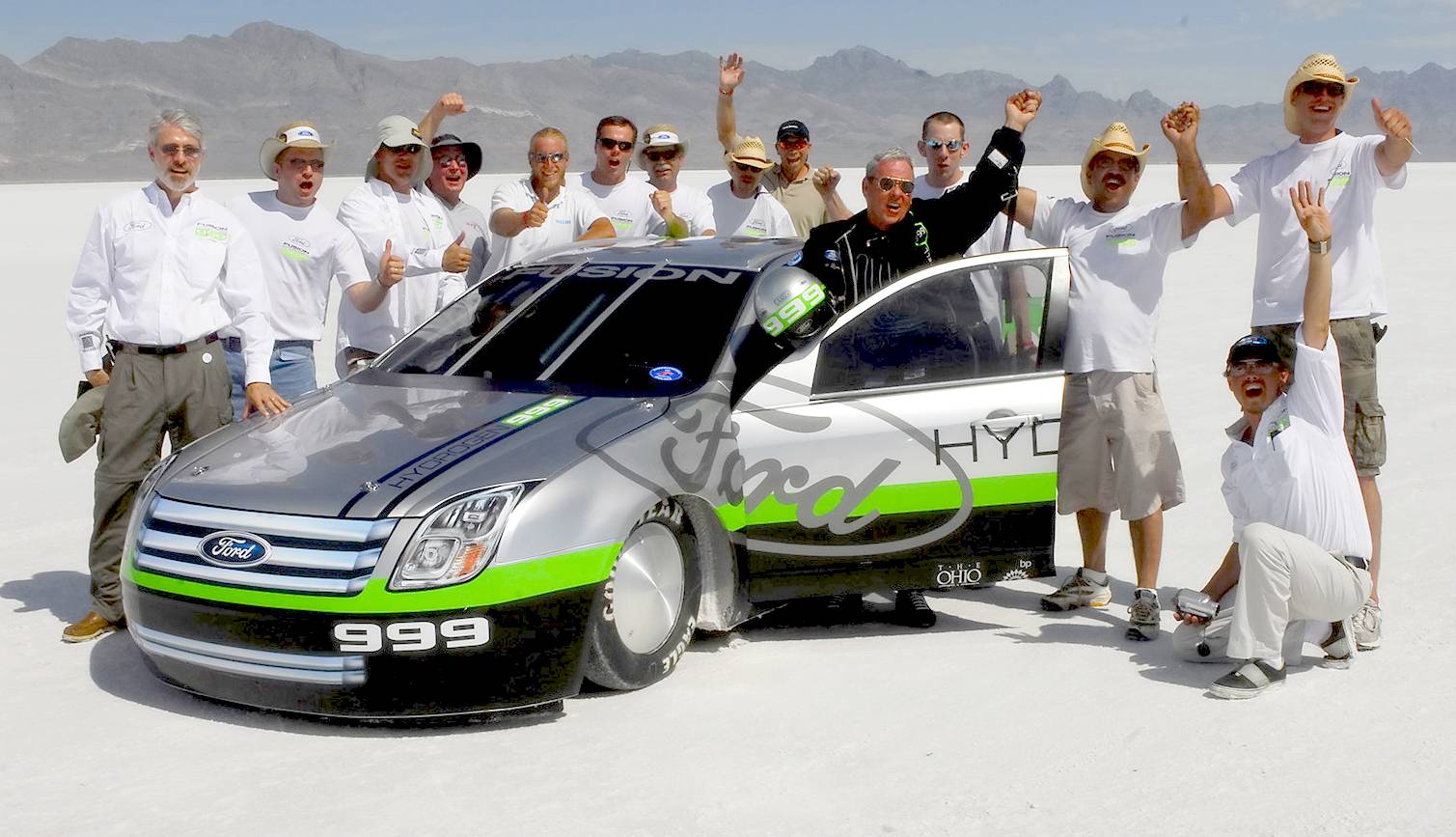 Hydrogen powered vehicles can be fast, as seen here with the 999 Ford Fusion at the Bonneville Salt Flats in 2007. A British team is looking to raise the record above 207 mph in 2021 with their Saxon Bullet car, equipped with hydrogen batteries.
Fuel Cells and Cars site navigator, A to Z index page: -
A - Z Fuel Cell concept vehicles and prototypes
A - Z OEM production FCEVs
All-Energy Conference - 15 September 2020, Glasgow, Scotland
Ammonia NH3 - For fuels cells and internal combustion engines
Ashok Leyland
Audi
Automated & Electric Vehicles Act 2018 - An act to make provision for insurance and refueling
Autonomous EVs - Self driving unmanned vehicles
Ballard Power Systems - Fuel cell manufacturer, Canada
Bentley
BEVs - Battery (powered) Electric Vehicles
BDY
BMW - X5 SUV
Buckeye Bullet 2 - hydrogen fuel cell powered land speed record streamliner 303mph
Buick
Bosch, Robert, Stuttgart, Germany
Cadillac
Canadian Hydrogen and Fuel Cell Association -
Cars A to Z - OEMs
China International Hydrogen Fuel Cell Conference and Exhibition August 21, Beijing 2020
Citroen
Chevrolet
DAF
Daimler
Driverless Cars - Unmanned automated taxis and more
Ecostar
FCEVs - Fuel Cell Electric Vehicles
FCH-JU - Fuel Cell Hydrogen Joint Undertaking, EU development funding, excluding UK
Ford - Fusion 999 - Bonneville Salt Flats hydrogen LSR 207mph, USA
Fuel Cell OEMs - Original Equipment Manufacturers A - Z
General Motors
Honda - Clarity
Horizon Fuel Cell Technology - Singapore & New York
Hydrogen -
Hyundai - Hyundai Nexo - 107mph LSR HFC powered @ Bonneville Salt Flats
Ineos - Grenadier, Sir Jim Ratcliffe's resurrected Land Rover principle
Insurance - For battery and fuel cell EVs
Ferrari
Fiat
Flats, USA, Salt
Ital
Jeep
JVH2 - Jules Verne Hydrogen Trophy - Series of clean energy competitions
KIA
Lamborghini
Land Rover
Lexus
Lotus
MAN
Maserati
Mercedes Benz - GLC F-Cell
Methanol CH03H - For fuel cells and internal combustion engines
Morgan
Nio
Nissan
Oldsmobile
Peroxide
Peugeot
Pontiac
Porsche
Powercell AB, Sweden
Quiet
Rolls Royce -
Saxon Bullet - Proposed hydrogen powered land speed record project - Pendine Sands, UK
Scottish Hydrogen Fuel Cell Association -
Seat
Smart
Solar - Assisted EVs
Subsidies - Crazy fossil fuel policies that are changing our climate by warming the planet
Tesla
Toyota - Mirai
TVR
Ultra
Volkswagen
Volvo -
World Hydrogen Congress - 22 September 2020, Paris, France
X Factor
Yamaha
Zero Carbon and Emissions Vehicles
ZEWT - Zero Emission Waterborne Transport, hydrogen fuel cell powered boats & ships
Zonda
Please use our A-Z INDEX to navigate this site where page links may lead to other sites, or see HOME
AUTOMOTIVE | CLIMATE | CONTACTS | GROWTH
This website is provided on a free basis to promote zero emission transport in Europe and Internationally.
Copyright © Climate Change Trust 2023. Solar Studios, BN271RF, United Kingdom.